While there are still many questions to answer in this vast universe, we want to take a moment to stop and wish a very Happy Birthday to one device which has made it possible to answer some of them.  The Hubble Telescope.  Hubble has allowed us to see the most distant galaxies ever observed. And given the time it takes light to reach us, we even get to see some of these galaxies as they were just half a billion years after the Big Bang.  Not bad for one of the most powerful scientific instruments ever, that incidentally started with an improperly shaped mirror.
The Hubble Telescope as seen from the Space Shuttle.
For those of you who don't know, the birth of the Hubble Telescope was not an easy one. For some weeks after it's deployment from the Space Shuttle (piloted by the current head of NASA, Charles Bolden), it appeared as if the entire project would result in failure. The primary mirror, unbeknownst prior to launch, had a critical flaw.
The telescope's images were blurry. While much could be done on the ground to correct and manipulate image data, nothing seemed to be working.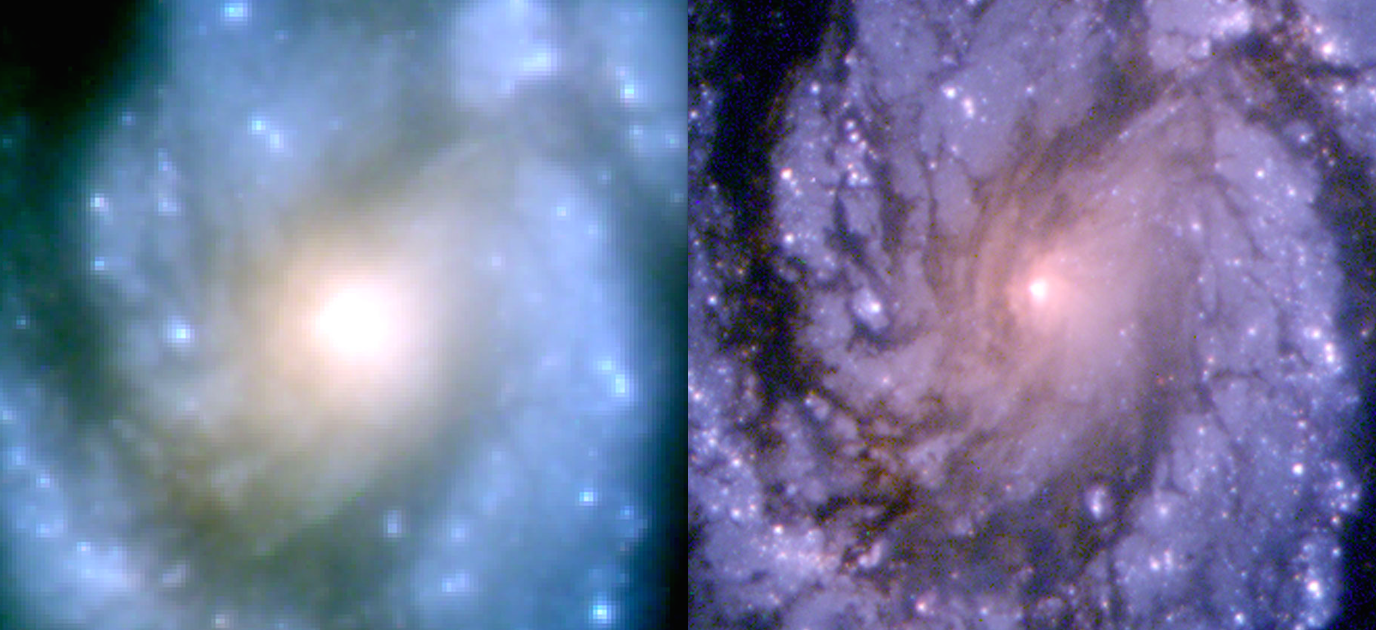 Hubble's view of the M100 galactic nucleus before (left) and after (right) repairs to correct the telescope's deformed mirror. Credit: NASA/STScI/JPL
As The Guardian recently published:
It was May 1990 and the $1.5bn Hubble had been in orbit for a month. In the room at Nasa's Goddard Space Flight Centre in Maryland, everyone stared at the image.

"Some eyebrows went up," says David Leckrone, a senior scientist who worked on Hubble from 1976 until his retirement in 2009. "It was supposed to be a picture of a binary star, a pair of stars. But it was just sort of a fuzzy blur." Someone piped up: "It's OK, isn't it? That's how it's supposed to look?" Those in the know drew breath. That was not how it was supposed to look.
Take a look at the full article about the trials and tribulations of the Hubble Telescopes early years.
NASA has released these amazing images from more than 20,000 light years away taken by the venerable space observatory.